Boot camp
Our high energy strength, conditioning, and kettlebell classes are comprehensive group fitness classes are full body training sessions that target you to keep getting better each week. You'll never do the same workout twice in our boot camps. Our highly trained team of coaches will help ensure you're receiving the best 30-minute workouts as well as having fun and making friends all while getting your sweat on. Within weeks you will start to see your body transform, becoming stronger and seeing more toned muscle.
---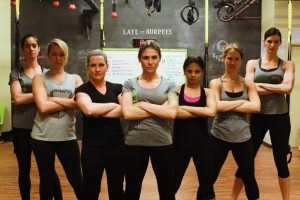 TRX
TRX Suspension training uses your own body weight from different angles to engage more muscle groups at the same time. Think: something as simple as a chest press or bicep curl becomes a core-stabilization exercise. During this session, you may not break a sweat or feel like you worked a ton of muscles but don't let that surprise you as you will feel muscles being worked that are normally dormant.
---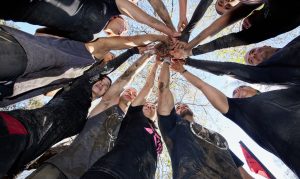 Spartan SGX Training
Our goal as certified Spartan SGX coaches is to help you become a better human. The program is designed for all fitness levels and is grounded with functional bodyweight exercises that will help to improve agility, athleticism, and power. The workouts are progressive so we will move through a 12 week course starting with function and mobility and then progress into strength and power, and lastly finish with obstacle training. We will be right alongside you coaching you on nutritional and lifestyle habits all the while building you up as a person. Because participating in a Spartan Race requires all around fitness, following a SGX program will develop you into a well-rounded athlete ready to take on any obstacle that may come in your path!
Our Spartan SGX program will not just prepare you to compete in a Spartan Race, but it will prepare you for life. Functional exercise will build the strength needed to accomplish any task you may already be doing in your life.
All of our programs come with helpful nutrition guidelines and plans!
There are so many factors that influence our health including, fitness, nutrition, lifestyle, social support, and knowledge.  By helping our clients recognize triggers, we help to empower them with the right decisions that allow them to move past limiting factors and stick to their goals. Not only by avoiding unhealthy habits, but healthy substitutes.
GET A


FREE TRIAL!

OTG Boot Camp group training is the most effective way to melt fat and tone up fast while training with your peers. This fun and supportive program is for all fitness levels. Within weeks you will start to see your body transform, becoming stronger and seeing more toned muscle. As body transformation specialists, we will help you every step of the way - get started today!
First Time Clients Get

50% OFF
Your First Month
Our amazing 30 minute OTG Bootcamp gets You fit, lean and sexy in 2017. We've helped hundreds of Chicago residents reach their goals and now it's your turn! Call 773-956-6841 or fill out the form below!