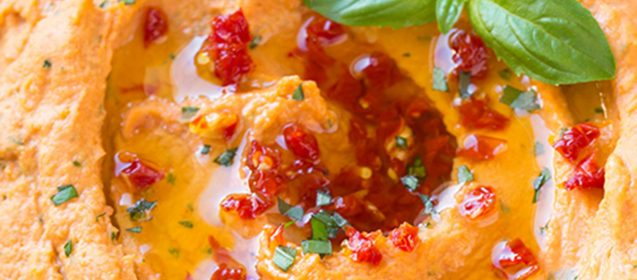 Festive Hummus (Sun-Dried Tomato and Basil)

While the red and green speckles give this homemade hummus a jolly look, it's the taste that makes it unforgettable. This dip makes the perfect party take-along. Serve it up with whole grain pita bread or fresh cut veggie sticks. Yield: 12 servings

Here's what you need:
1 (15 oz) can garbanzo beans
1 Tablespoons tahini
1 Tablespoon olive oil
1 Tablespoon lemon juice
1 Tablespoon water
2 garlic cloves, mashed
1/4 teaspoon salt
2 teaspoons soy sauce
4 sun-dried tomatoes
1/4 cup basil leaves
Throw all the ingredients into a food processor and combine until smooth. Enjoy your hummus, and be sure to share the recipe with your friends!
Nutritional Analysis: One serving equals: 55 calories, 2g fat, 6g carbohydrate, 2g fiber, and 2g protein.